Other Solar and Energy Products
Australian All Energy Solutions (AAES) also provides LED lighting and solar hot water systems for homes and businesses across South East Queensland and Northern New South Wales.
Why choose LEDs?
LED stands for 'Light Emitting Diode', a semiconductor device that converts electricity into light. When in use these lights produce extremely low levels of heat and have greater energy efficiency than halogen or incandescent lighting – while incandescent bulbs lose around 90 per cent of energy, LEDs lose less than 20 per cent.
LED lights are also made without any toxic materials, whereas traditional light bulbs make use of mercury that can be harmful to the environment.
Another benefit of LEDs is their long life span. A single bulb can last for 100,000 hours of use – that's 11 years of straight use or almost 35 years if left on for eight hours a day.
Why choose solar hot water?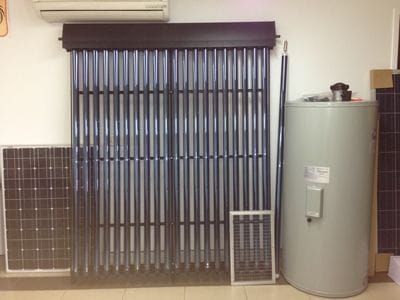 Solar Hot Water System
With the highest rate of solar radiation than any other continent, Australia is brimming with solar energy potential – how can homes and businesses not make the most of this natural resource?
AAES offers solar hot water systems for domestic, commercial and industrial applications, offering businesses and homes impressive energy savings. Although solar hot water systems have a high installation cost, they pay for themselves in energy savings. For example: the electricity use for heating water in homes ranges from 7 to 11 kWh/day depending on season and number of family members. The cost of this electricity is typically $400 to $600 (in off-peak periods) a year.
If you're interested in installing LED lighting or a solar hot water system in your home or business, call AAES for a quote.